LilyPod
"Nurture UR Nature"
200hr Yoga Teacher Trainings Ibiza 2019:
October 6th - 25th
BALI 2020:
April 12th / May 1st 2020
For our AYURVEDA FUNDAMENTALS mini course October 6-13, read about it half way down this page.
"ANCIENT KNOWLEDGE FOR THE MODERN YOGI"
(Photo gallery below)
200hr Yoga Teacher Training with emphasis in Ayurveda, Tantra and Yoga lifestyle.

Ibiza Location: North of the island, perched above Cala Benirras, overlooking the stunning waters of the Mediterranean Sea. The house is simple yet has a similar feeling of an ashram setting, perfect for immersing oneself in yoga studies.

There is a limit to 10 participants on this course.

The LilyPod Yoga & Ayurveda Teacher Training Course is a spiritual practice in its own right, developed and guided under the guidance of an experienced yoga teacher / therapist Liilamaya Liliana Galvis with the assistance of Ayurveda Doctor Anjali Joshi as well as a few other local teachers.

Our Specialized Yoga & Ayurveda YTT has been designed with a keen and thoughtful therapeutic approach in light of integrating of all 8 Limbs of Yoga as prescribed by Sri Patanjali in the Yoga Sutras for a fully integrated and holistic style of teaching PEOPLE not just asana.
Students of our LilyPod YTT not only learn to teach confidentially asana flows but are also able to incorporate aspects of Indian Hindu Philosophy to their teachings, basic Sanskrit, chanting & nada yoga principles, give guidance to doshic imbalances via yoga and lifestyle therapy application as well as application of Ayurveda concepts into not only their own lives but the lives of those they contact.
TRIBE MEMBERS:
Dr Anjali Joshi is highly qualified and experienced Ayurvedic Doctor. She brings with her vast and rich experience of 15+ years specialising in consulting and training.This has come from her providing consultation to people and training of students and corporates for 7+ years in India and then 8+ years in UK. She is associated with well established College of Ayurveda Uk and Middlesex university and teaching Ayurveda and Yoga philosophy at various Yoga schools. She has been involved in providing training and traditional healthy consultation to corporate world in the UK by teaming up with well-known Ayurveda retreat organisation called Herbal Ayur. She is also certified and trained in Yoga Therapy from Vivekananada Institute of Yoga, an academic deemed university. In parallel to her current assignments, She is keenly pursuing to attain higher accreditation and levels in Yoga Therapy.
Dr. Anjali Joshi will be facilitating knowledge on Hindu philosophy, basic Sanskrit and Yoga Therapy during our YTT.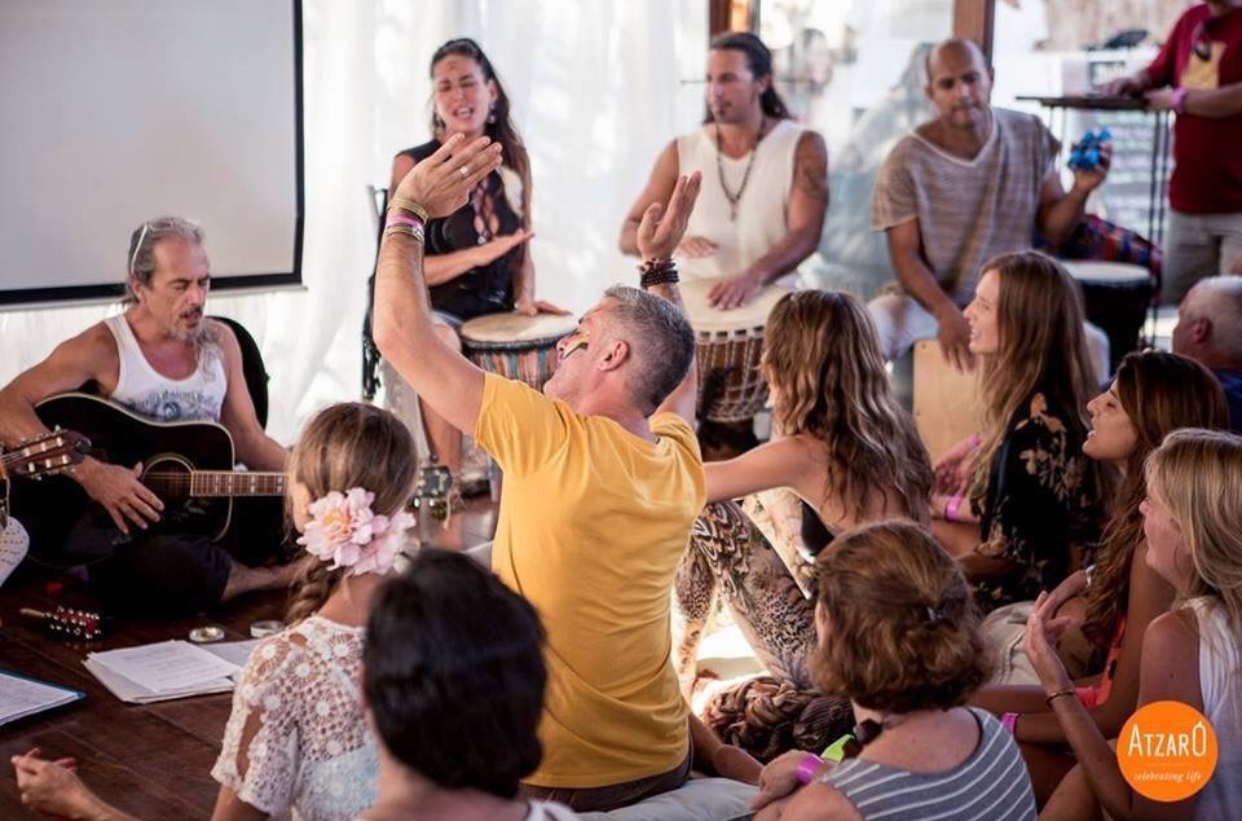 Self taught multi-instrumentalist, singer and music producer, Marco is a devotional musician who facilitates Singing Circles and Kirtan since 2006. He collaborated with various devotional artists: Jaya Lakshmi (USA), David Lurey (Spain), RaviJi (UK), Nalini Blossom (UK), Ravi Ram (Spain), Fantuzzi (USA), MaureenJi (USA), BahramJi (Persia), Ryan Whitewolf (USA) amongst others. Marco also runs Songfisher.org, a platform providing Songbooks for free download which are shared worldwide within the global singing and Bhakti community.
Marco will be facilitating "The Art of expansion through singing in unison" workshop during our YTT.
SACRED WORKSHOPS
1- The Art of expansion through singing in unison. Facilitated by: Marco Osmo
In this workshop, Marco will take us through a journey about the history of where this science of sound began, how it is interconnected with sacred geometry as well as how it was developed then transmitte down from Rishis to their Sannyasins into a healing realm.
Marco will cover theory, mechanincs and practice on mantras, bhajans and devotional singing.
Most interesting are the BENEFITS :)
AYURVEDIC FUNDAMENTALS mini course
IBIZA October 6th-13th, 2019
"Life (Ayu) is the combination (samyoga) of body senses, mind and reincarnating soul. Ayurveda is the most sacred science of life, beneficial to humans both in this world and the world beyond." - CHARAKA SAMHITA, SUTRASTHANA, I 42-34
Our mini Ayurveda fundamentals course has been designed in light of bringing the two sister sciences back together as they were meant to be. Our teachings will empower and enhance your teaching skills (if you are already a teacher) as well as to improve the quality of your life by tuning in to what serves you best and what does not.
The course includes:
- Accommodation at a villa in Cala Benirras walking distance to the beach
- Daily Morning meditation and Yoga practices
- Breakfast & Lunch
- Daily 2 hr Ayurveda lecture
Total cost: 600 Euros (All inclusive)
Note: the course is taking place during a 200hr TT . Dinner will be an extra cost if you would like to eat with the group.


COURSE
Monday to Saturday - Sundays OFF
6:30 am – Meditation – Daily Inspiration Quote
7:45 – 9:15 am Yoga Practice – Music & Chanting
9:30 am Breakfast
10:30 am to Noon: lectures based on the following topics: Yoga and Ayurveda Theory, teaching Methodology, Philosophy, A & P, Lifestyle, Yoga therapy, Ayurveda knowlege, Video Tutorials, Yoga Therapy, Herb Alchemy, Ethics, Code of Conduct, etc..
12 Noon Nature walk before Lunch
13h – 14h SEVA, Study time & relaxation,
14h – 16h Lectures. Continuation from the above.
16h30 – 18h Asana Practice in pairs, students will take turns teaching during this time. We start day 1.
18h Yoga Nidra-meditation (optional) :-)
19h Dinner
Bed by 22Hr
FULL MOON CACAO CEREMONY SUNDAY OCTOBER 13TH
Highlights of what we will cover:
– Yoga Philosophy I & II – Includes foundation study of the Yoga Sutras by Patanjali & Bhagavad Gita.
– Yoga History, the VEDAS, the different Yogic paths and definitions, (ex: Bhakti, Jnana, karma, Tantric and Mantra Yoga)
– Study and practice of Pranayama, mantra. How to use a malas-bead prayer necklace.
– AYURVEDIC YOGA, the 2 sister sciences as they are meant to be.
– Language of the Bhutas (5 elements and their connection to Yoga and Ayurveda), study for the DOSHAS and how to balance them in the Yoga practice.
– Study of the GUNAS & VAYUS from an Ayurvedic & Yogic point of view.
– Study of the concepts of: AGNI, AMA, DHATUS, KOSHAS, KRIYA, DHARMA.
– Yoga Asana teaching methodology & techniques, break down of how to teach postures, correct, adjust & structuring and sequencing with PLENTY of practicum time. (Teaching skills)
– Study of Yogic Anatomy & Physiology, movement mechanics and postural assestment, study of how breathing affects posture, PRANA as the link between Yoga & Ayurveda, breathing energetics and pranayama techniques to sooth the Doshas.
– Study of the higher energy Centers: CHAKRAS, MARMA, NADIS.
– The Alchemy of Yoga & Ayurveda: DINACHARYA, KRIYAS, MANTRA, MUDRAS, BANDHAS.
– Ayurvedic nutrition & Sattvic eating.
– Basic fundamentals of Ayurvedic massage.
– HERB ALCHEMY
– YOGIC LIFESTYLE
– The business of being a Yoga Teacher, Yoga Teacher Ethics & Code of Conduct.

PRICE INCLUDES
– Tuition & Certificate upon successful completion of 100% of the course.
– Accommodation at a gorgeous villa set in the North lush country side of Ibiza.
– All 3 meals
– Course Manual and handouts.
– Special Workshops on ayurvedic nutrition & cooking, devotional mantra/kirtan singing and its benefits, meditation, Sanskrit and Hindu philosophy by an Ayurveda Doctor, basic fundamentals of Ayurvedic massage.
TOTAL COST: 3,900 Euros
It May sound like a huge investment, but please note our training provides you with ancient tools to assist you to master your life than simply to learn to teach asana, especially because we carefully integrate knowledge from its sister science Ayurveda, plus one of our facilitators is an Ayurveda Doctor which no other 200hr TT on beloved Gaia provides.
Have a chat with Liilamaya to find out more.